Overall journey time from Singapore's Tanah Merah ferry terminal to Nikoi Island is approximately two and a half hours, involving a 1-hour ferry from Singapore to Bintan followed by a 1-hour car journey across Bintan and then a 20-minute speed boat ride to the island.  Our team will help arrange this transfer.  The cost is S$95++/S$48++ per adult/child for the round trip.  This includes both the car journey, the speed boat and use of the VIP lounge at Bintan Ferry terminal.  Note additional charges may apply if you travel outside of our designated schedule (details below).
From Singapore (by ferry)
Regular high-speed catamaran ferries operate between Singapore and Bintan Resorts (Bandar Bentan Telani). The service takes less than 1 hour and operates at least five times every day. We meet the following ferry times from Singapore.  Additional charges will apply if guests catch non-designated ferries and a slower boat may be used.
We currently meet all ferry timings.  Once the ferry schedule returns to the normal pre-pandemic timings, we will meet the following ferries: 
Singapore to Bintan: 8.10am, 11.10am and 5pmBintan to Singapore: 2.35pm and 5.35pm
Ferry bookings can be made online: www.brf.com.sg or via email: [email protected]
From Jakarta (by plane)
There are daily flights from Jakarta to Bintan on Garuda Indonesia, Sriwijaya Air and Lion Air. From the airport on Bintan, it is a half hour car journey to Kawal and then a half hour boat trip to Nikoi.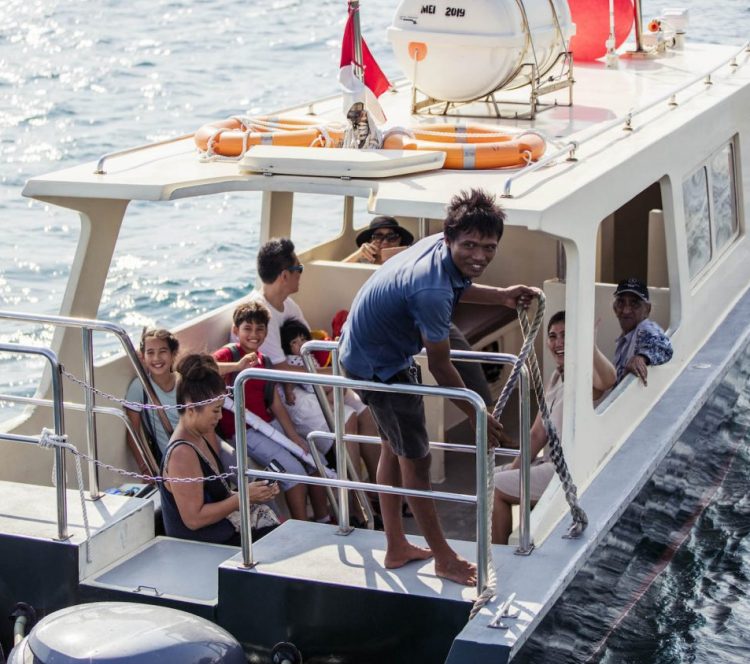 Our boats
Our main launch is a custom built 48 ft boat, powered by 4 x 200hp Yamaha engines. It can seat 30 passengers and makes the journey to Nikoi in around 20 minutes.  All of our boats have been built by local boat builders and specifically designed for the local conditions. The crew are well experienced and all of the boats are equipped with life vests, VHF radio and navigation equipment. The boat journey is approximately 10km and both Bintan Island and Nikoi Island are in view for the whole journey.
Additional information
Check-in and Check-out time
Check-in is at 1 pm and Check out is at 11 am
To the terminal
The Tanah Merah ferry terminal in Singapore is 10 minutes from Changi International airport or 30 minutes from the city centre by taxi. From Singapore to Nikoi on Google Maps