Whilst many people visit Nikoi just to unwind, we do offer a wide range of activities for the outgoing. Note that we do not charge for most of these activities and you are free to use the equipment for as long and as often as you like unless otherwise specified. Many of our staff are experienced sailors, divers and rock climbers and are always happy to help introduce guests to a new activity.
Adventure
Rock climbing, mountain biking and trekking are some exciting activities available for visitors to explore on Bintan and neighbouring islands. We have some great natural rocks to climb on the northern point just before you get to the swimming pool, and a zipline course amongst the jungle on the southern side. Our staff have been well trained and the equipment is well maintained. There is a small charge for the rock climbing and ziplining activities.
Exploring nature
There are plenty of opportunities to explore the island's flora and fauna. At low tide the rock pools around the reef make a fascinating area to investigate for both adults and children. Our staff will be happy to take you on a tour of Nikoi to show you all of the effort we have made to make Nikoi as sustainable as possible. We have won numerous awards for our efforts and introduced a number of innovative practices.
We have a team that monitor the beaches for turtle nests and work on marine conservation so do ask to speak to any of these staff if this is something you are interested in. Turtles nest on the island between February and September.
Furthermore, there are a number of uninhabited islands near Nikoi. If you are interested in exploring these, do enquire with our staff. Picnics can be arranged for such excursions. There will be a charge for the use of the boat.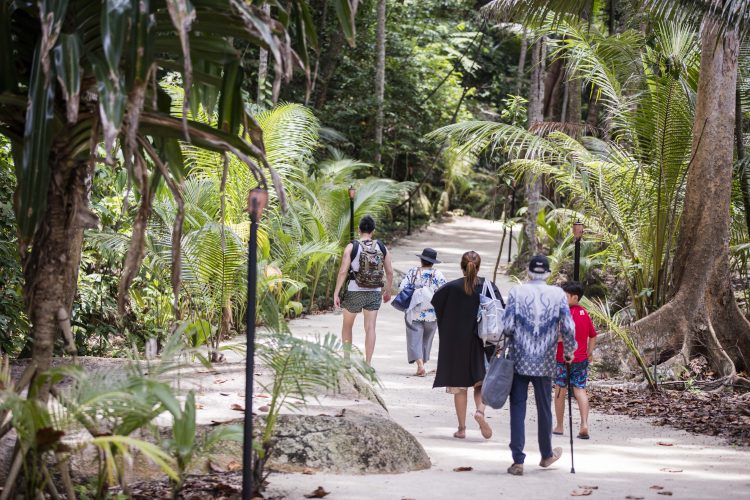 Sports
We have two natural grass tennis courts on Nikoi. These are rotated so that one court is in play for tennis and the other set up for Croquet. There is no charge for the use of the courts but there is a nominal fee for the use of tennis racquets and balls. We encourage guests to play barefoot so there is no need to bring shoes.
A range of games such as beach volleyball, boule and capture the flag are available upon request.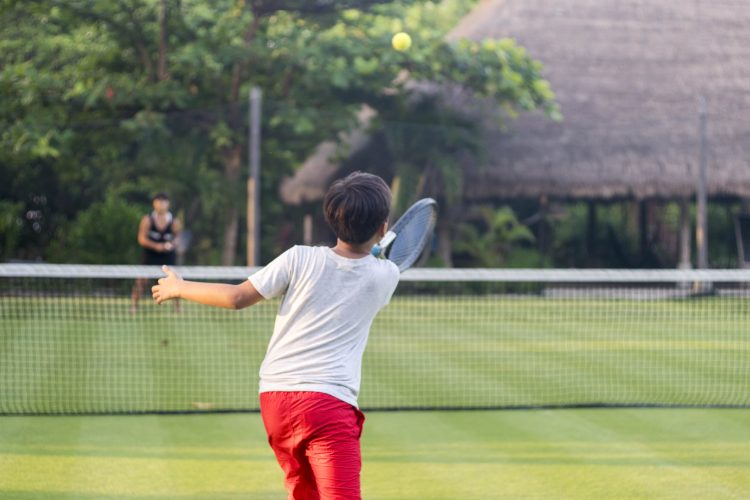 Swimming
A spectacular pool has been built in amongst the granite boulders on the north-eastern side of the island and provides a destination within a destination.  Set high above the sea it overlooks one of the prettiest beaches on Nikoi and provides uninterrupted views over the South China Sea. 
We have two swimming pools, one of which is a paddling pool for infants. There is a bar serving drinks, a bathroom and plenty of deck chairs in both the shade and the sun. It is a stunning venue at night when lit up so if you are interested in a late night swim ask our staff to make sure the lights are on. Do note that there is no lifeguard at the pool.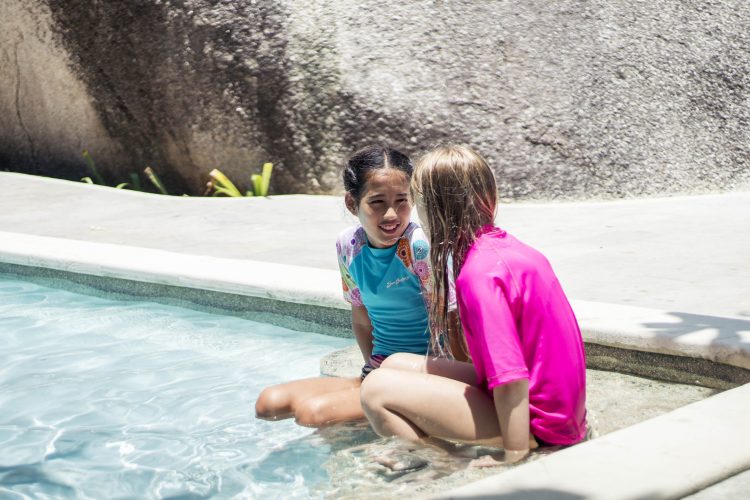 Recreation
We have a small selection of board games including scrabble, chess and draughts and a large collection of dice and cups to play a game called Paso (aka Liars Dice) as featured in the movie Pirates of the Caribbean.
Movie screenings are available in the kids club area. If you and/or your children are interested in watching a video please let our staff know and they will be happy to arrange it. We have a collection of classic movies suitable for both children and adults. With prior notice, we can screen significant sporting events if they are on Indovision (Indonesian Satellite TV).
Cooking classes are available upon request but subject to availability and numbers. For more information or to pre-book a cooking class prior to your arrival please email [email protected]